Calgary concussion management: Treating concussions through the underlying neck symptoms with NUCCA treatment
Many people are left to suffer from debilitating concussion symptoms due to a poor understanding of concussion management. In my experience, managing head injuries requires a multi-disciplinary approach, and correcting the underlying neck injury is fundamental to making a proper recovery.
Seek proper management for concussion symptoms
If treated improperly, concussion symptoms can remain even after a number of months or even years. By communicating with other health care professionals and using the NUCCA procedure, I'm able to help with the realignment of the upper neck and ensure that all aspects of the injury are being properly managed.
Concussion treatment is a complex process
Reducing or eliminating concussion symptoms is a complex process, so naturally I look to give patients the most up to date information so each individual is as comfortable as possible. I do this by continuously attending relevant seminars. Furthering my education in the field of concussion management allows me to stay focused on addressing underlying neck injuries and guiding people on the road to recovery.
Passion equals purpose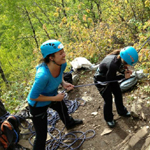 My love for experiencing the great outdoors gives me a passion for making the most out of life, and my goal is to help you to make the most of your life as well. Studying and applying the NUCCA procedure can help me to show you how to realign not just your upper neck, but your perception of the world around you.
In concussion treatment, each piece of the puzzle is vital
There's no way to suffer a concussion without sustaining an injury to the upper neck, which is why a realignment is vital to a complete and proper recovery. As a Calgary NUCCA practitioner and concussion doctor/chiropractor, I use gentle, precise adjustments to utilize a comprehensive approach to health, working with many other health care providers who focus on concussion to ensure that no pieces of the full picture are missed.
Cost and time of NUCCA treatment
At the Vital Posture™ Clinic you will spend $150 for the initial assessment which will take about an hour of your time. The complexity of your injury, and duration of treatment will define the total cost. Most people with chronic conditions graduate from weekly visits within two months and finish with recovery care within a year. If you are found to be a candidate for care, the treatment fees average to $175/month during the recovery phase. More care is typically needed in the early stage of treatment but much less is necessary as your muscles stabilize your new postural balance. You can decide to continue or stop treatment at any time.
As a NUCCA chiropractor in Calgary, Dr. Mylène Hopf can help you to:
• RELIEVE your pain

• REBALANCE your posture

• REJUVENATE your life