Neck stiffness or injury? Get back in the game with NUCCA treatment
As an avid golfer, I know the frustration of loving a sport but being restricted due to pain and limited movement. A misaligned upper neck will drastically affect a person's ability to play well, and more importantly – feel well. Whether you're a young aspiring hockey player or an old retired golfer, you deserve the most out of your mind and body. My aim is to help you take down the physical barriers keeping you from enjoying what you love. I hope to help these people realize the vast potential locked away behind their misaligned upper neck through the utilization of the NUCCA procedure and the integration of other pertinent practitioners.
Gravity is constant, and so is our education
Gravity is a unending constant in our lives, so learning to work with gravity instead of against it can have a positive effect on the athletic population. My enjoyment of the science behind the NUCCA procedure drives me to continue my learning, and I attend seminars to further understand how precision care to the upper neck will benefit athletes of all shapes and sizes.
Athletes have to trust their partners, just as patients have to trust their NUCCA practitioners
A passion for treating athletes comes with a passion for athletics. My particular sport of choice is golf, which allows me to better understand the benefits that an aligned upper neck would offer each individual. It's important to me to create a trusting environment which will breed solutions, no matter what your own passion.
Take action to push your limits with NUCCA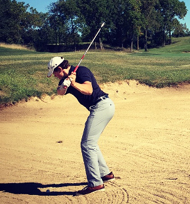 A misalignment of the upper neck can have a negative effect on all walks of life, especially the athletic population, as athletes test the limits of their bodies each and every day. Since gravity is a constant force in our universe, it makes sense to work with it in a synergistic manner when you have a sports injury as opposed to combatting it asymmetrically. NUCCA has the ability to allow you to push the limits of your body in a gentle, safe, and symmetrical manner.
About cost and time of NUCCA treatment
At the Vital Posture™ Clinic you will spend $150 for the initial assessment which will take about an hour of your time. The complexity of your injury, and duration of treatment will define the total cost. Most people with chronic conditions graduate from weekly visits within two months and finish with recovery care within a year. If you are found to be a candidate for care, the treatment fees average to $175/month during the recovery phase. More care is typically needed in the early stage of treatment but much less is necessary as your muscles stabilize your new postural balance. You can decide to continue or stop treatment at any time.


As a NUCCA chiropractor in Calgary, Dr. Ty Wilson can help you to:
• RELIEVE your pain
• REBALANCE your posture
• REJUVENATE your life